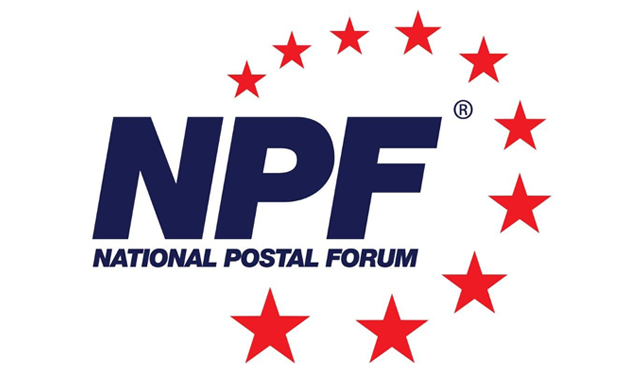 NPF Session Added
A Smooth Transition to 6-day Package and 5-day Mail Delivery Workshop
Changing how we deliver mail is part of a comprehensive plan to ensure that the Postal Service can continue to deliver affordable service to the American people. Don't miss this opportunity to learn more about USPS's plans to implement 6-day package and five-day mail delivery. Come and hear how this will result in a smooth transition to deliver for your business.
Tuesday – 2007 | Period 10 • 9:30 AM – 10:45 AM
Tuesday – 2007 | Period 11 • 11:00 AM – 12:15 PM REPEAT SESSION
In addition, start your Forum experience with the first ever….
National Meeting of Area Focus Groups – A Commitment to Service
8:30am – 11:30am, Sunday March 17th
Moscone Center West – Ballroom 2007
Attend this national meeting to see how you can benefit from the Area Focus Group meetings held throughout the year in each of the Postal Service geographic Areas. See how the Postal Service and Industry are working together to deliver solutions to service issues, provide the latest information and ideas, and provide opportunities to interface with management. Also, learn about the new diagnostic tools being used to deliver record levels of service and provide mailers with information defining the consistency and predictability of mail. This session is for all Periodicals, Standard Mail and First-Class Mail Forum attendees.
This session will be led by Chief Operating Officer and EVP of the US Postal Service, Megan J. Brennan and will also include:
USPS Area Vice Presidents, the USPS VP of Network Operations, USPS VP Product Information, USPS National Area Focus Group Co-Chair, USPS Manager of Industry Engagement & Outreach as well as mailing industry leaders from the private sector.
Access and Information are the key words at the 2013 NPF.
Whether it is the new National Area Focus Groups or the Monday morning General Session presided over by Postmaster General Patrick R. Donahoe, this is the only mailing industry event that can provide you, the mailing professional, and your organization the critical knowledge necessary to adapt and thrive in this fast changing industry.
With only 17 days left until the Forum, REGISTER NOW and take advantage of discounted NPF hotel pricing and reduced NPF pre-registration rates.