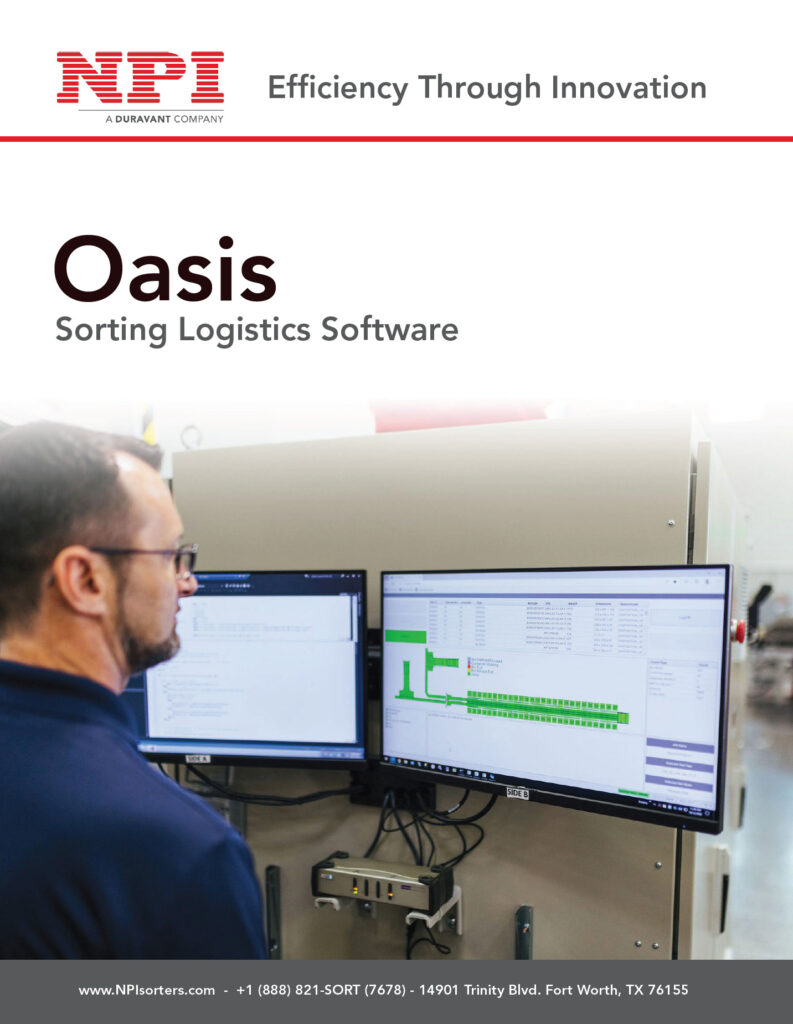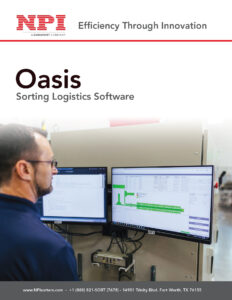 Oasis
Oasis is NPI's proprietary web-based software program was developed with ease-of-use and simplicity in mind. The software is designed to improve the logistics of your operation and reduce labor requirements through accurate sorting of parcels. It is easily accessible from anywhere on your company's network, allowing you to access the Oasis interface from your laptop, tablet, or desktop computer. Oasis features a state-of-the-art productivity display that shows information and statistics in real-time for the Xstream Shoe Sorter. The productivity display shows the current throughput and read rate of your sorter, informing you how many parcels have been sorted per hour.
In addition, if your company utilizes a Dual Sided Xstream Sorter, Oasis displays the read rate and percentage of pieces sorted for each side of the sorter. It includes on-screen alerts such as eStop notifications, bin full notifications, and bin present notifications. Starting from the installation of your sorter and onwards, NPI's dedicated software and service team will expertly configure and optimize a sorting plan that aligns with your company's needs, effectively improving accuracy and speed while simultaneously generating a return on investment.
OpteSuite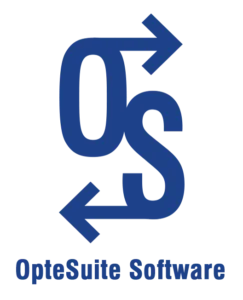 NPI's OpteSuite is a licensed software package that optimizes sorting and logistics to reduce cost. OpteSuite accepts pre-existing mailpiece data and generates optimized sort plans that finalize the mail subsequently processed on the sorter to the minimum number of passes and maximizes Postal Service discounts. Pre-existing mailing data accepted for analysis includes the following:
Mail.dats files
Text based zip files
After loading the mailing data, OpteSuite can be utilized to review historical mailings or produce sophisticated what-if analysis to decide which individual mailing jobs could be commingled or combined via co-palletization to produce optimal postal discounts including logistics discounts on Standard mailings.
By utilizing OpteSuite prior to running any first class or standard mail is processed on the sorter, you can plan your sort up-front to maximize one pass mail processing not only for postal discounts but for labor and production time savings as well. Once the plan is generated and the Mail is processed, OpteSuite allows full postal reporting including accounting for various spoilage options in the finalized Mail.dat files.
NPI Reporting
NPI Reporting is a web-based software package that allows you to visually analyze your sorter data using cutting edge technology that integrates directly with your sorter. NPI Reporting lets you access the software anywhere in your network. Use sorter data to visualize how your sorter is distributing pieces to each bin, see what barcodes are being sorted where and more!