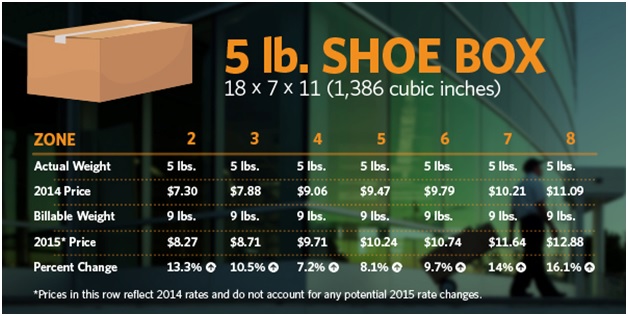 Why FedEx Shippers Should Be Scrambling To Analyze Their Data
FedEx made headlines once again Friday, announcing, effective January 1, 2015, that FedEx Ground will apply dimensional weight pricing to all shipments.
Currently, FedEx applies dimensional weight pricing only to packages measuring three cubic feet (5,184 cubic inches) or greater. Dimensional weight pricing is commonly used by both FedEx and UPS, and sets transportation prices based on cubic package volume – the amount of space a package occupies in relation to its actual weight.
According to page 119 of the 2014 FedEx Service Guide, Ground dimensional weight may apply to FedEx Ground packages that are 3 cubic feet (5,184 cubic inches) or larger. To arrive at a package's dimensional weight, multiply the length by width by height of each package in inches. If the total is 5,184 or greater, calculate dimensional weight by dividing by 166 (for shipments within the U.S.) or 139 (for shipments to Canada). If the dimensional weight exceeds the actual weight, charges may be assessed based on the dimensional weight.
So, for the remainder of 2014, FedEx Ground packages that don't reach the dimensional threshold outlined above will not be subject to steep price increases. After that, though, many shippers can throw that logic to the wind.
In layman's terms, the announcement means that shippers who ship lighter goods in larger boxes will get hit, and hit hard, with dimensional charges.
For example, a shoe box with dimensions of 18x7x11 (1,386 cubic inches) weighing five pounds shipped FedEx Ground to a destination within 150 miles (Zone 2) will cost $7.30 until 11:59 p.m. on December 31. After that, that same package will receive dimensional weight pricing (1,386/166), bumping its billable weight up to nine pounds and its price 13.3 percent, to $8.27
Below is a breakdown of how that same package will be impacted to farther domestic destinations:
Of course, the takeaway is that any package with dimensions less than that of the current 5,184 cubic inch threshold, and which contain contents of lesser actual weight than billable weight, are all going to be impacted in 2015 and beyond. That means that shippers are going to pay the price of up to a 32-pound package, regardless of actual weight when their shipments hit the road.
As referenced, shippers of large, lightweight items should be on high alert in light of this news, as they will see unprecedented cost increases in 2015. Items like lamp shades and pillows take up more space, and weigh less, making them a less profitable package for the carriers than, say, a box of fishing weights. Dimensional weight pricing was developed by the carriers in an effort to protect margins on such packages, though the latest move by FedEx is unheard-of in terms of percentage price increases.
While UPS has yet to announce any plans to implement a similar pricing model, the two economic bellwethers have strikingly similar pricing structures for practically all services, and it would be hard to fathom that similar news from UPS is not forthcoming.
At close of business Monday, attempts to seek comment from FedEx by at least one major media outlet had gone unanswered, so it is unclear what drove the purpose and timing of such a significant change.
It is practical to think, however, that the surge in retail e-commerce could have played a role in bringing such a change to fruition. The 2013 holiday service failure fiasco was the first indication that the sector was growing at a rate that, to that point, was not fully understood. Now, however, we know that the demand for one-off purchases shipped directly to consumers are trending upward at nearly unpredictable rates, so it only makes sense that a shift in package volume characteristics has resulted from the change in buyer behavior. In other words, before, a warehouse might send one box containing 50 shirts to a brick and mortar store, and 50 customers would trickle in over time to purchase the merchandise. Now that same package, in theory, can be broken into 50 individual shipments as those same customers shop online.
What is certain is that these changes pose a significant fiscal challenge to a wide variety of shippers, all of whom should begin planning immediately. It will be important for business to conduct thorough parcel analyses, and do so quickly, to determine how much this pricing change will increase their respective businesses. From that point, they will need to decide the best course of action to mitigate the impact; whether through changes to the way they package their products, the way they distribute them, or whether to buy themselves more time to implement significant supply chain changes by renegotiating their current parcel agreements to help stop the bleeding.
By: Brandon Staton of Transportation Impact, LLC