3rd Party Logistics Parcel Sorting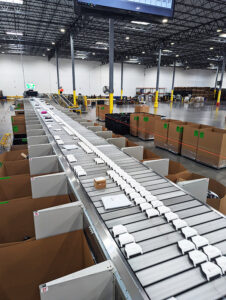 Third-party logistics providers play a crucial role in the modern supply chain, offering a range of services that help businesses to manage their logistics operations more efficiently. This includes the storage, transportation, and distribution of goods on behalf of other businesses. One of the key advantages of using a 3PL is that it allows businesses to outsource their logistics operations to a specialist provider, freeing up resources and allowing them to focus on their core competencies.

Automated parcel sorters are an important system for 3PLs. They enable these companies to quickly and accurately sort packages according to a variety of criteria. Parcel sorters work by utilizing a dimension, weight, scan (DWS) tunnel to determine the appropriate sorting criteria. This includes the destination of the package and the size and weight of the package.
Why use an Xstream for your third party logistics?
Part of the responsibility of a third party logistics (3PL) company is to pick the requested item from storage and ship it to the correct location. NPI has developed an automated parcel sorting system to fulfill this need for 3PL companies. The NPI Xstream is an excellent system for 3PL operations, with a throughput of up to 24,000 parcels per hour, the Xstream can handle your operations quickly and with precision accuracy. 3PL companies also offer services such as reverse logistics, which can also be handled by NPI's Xstream sliding shoe sorter system. 3PL companies often see a quick return on investment with an Xstream sorting system. The ROI is usually generated from reduced labor costs, more accurate shipments, and higher customer satisfaction rates. The Xstream is also cost effective and is space saving with a small footprint.